After our first venture outside for COVID testing and with all of us testing negative we were finally free on Sunday 12th September.
On our last day of quarantine, I found myself reflecting upon the anniversary of being told four years ago about my MND diagnosis (even though I've had symptoms for five and a half years). It made me realise how lucky I am to still be here and to be in home quarantine. When the news every night highlights people who have been denied to even enter the state under their own terrible circumstances, and I have been given the opportunity to get home, I feel a great sense of gratitude to family and friends who supported and helped me with every step along the way. That is what being Awesome is about for me.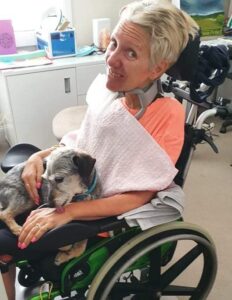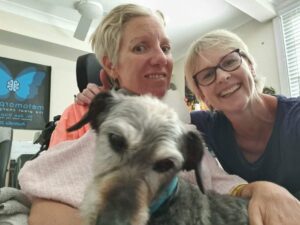 Meanwhile, Buster (Liz's dog) had flown in by private charter from Melbourne and arrived just when we were getting a bit sick of each other and helped to save the day.
So, on Sunday, we were finally Free. Maree ran out the gate with her bag in hand and danced off down the street.
The first stop for me was walking in the sun along the foreshore from the Shorncliffe Pier. Then off to get my nails done – beauty awaits!
Words cannot express the gratitude I feel for Liz throughout this whole ordeal, as she's been an invaluable addition to the household, helping to care for me and support the others whilst we were in quarantine together. This is what an Awesome friend is all about.
Apparently, the excitement was too much for me though as I had trouble getting to sleep that night when my breathing took a turn for the worse. After hours of laboured breathing and no relief in sight, Steve called the ambulance and off to hospital I went for a blood test and chest x-ray, all of which returned excellent results of course. I might be down, but I'm not out and you can't get rid of me yet!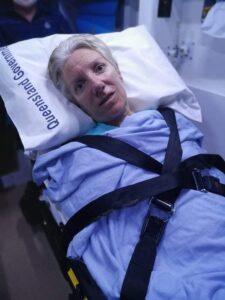 The week began with a new round of carers from a local agency, and they continue to come and go in shifts throughout the day and night in an attempt to give Steve the break he needs. With additional help, life in Queensland is slowly getting back to normal with activities such as appointments and physical therapy sessions resuming once again.
After a consultation at the Sleep Department in the Prince Charles Hospital, I decided to take their suggestion of using a CPAP machine to assist in my breathing at night. Unfortunately, as with most things, there was a trade- off. I'm not sure if it would have worked but my nerves went crazy with the additional oxygen and I averaged 2 hours of sleep for two nights before deciding the CPAP just wasn't going to work for me. The trials and tribulations are never-ending with me but I just look to the next challenge and decide how to continue to Be Awesome Everyday.