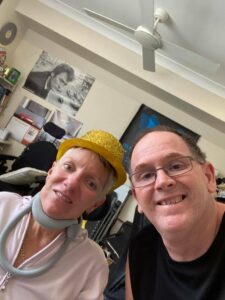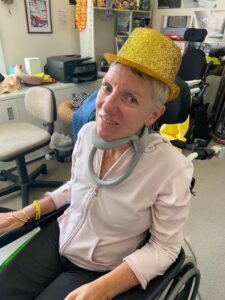 Today I was meant to be in chilly Melbourne, excitedly anticipating seeing my wonderful family and friends at tonight's gala dinner – a reunion event after the amazing FUNdraiser we did back in 2018.
Reminiscing about the FUNdraiser event still brings me so much joy – the love, the generosity and the fun in the room that night was incredible.  Undeniably, the support I received from family and friends in those initial stages following my diagnosis, helped manage the tremendous financial burden we faced – my inability to work, medical appointments, treatments, equipment, transport, personal care, communication devices etc.
Unfortunately today wasn't to be… COVID strikes again! I am feeling pretty disappointed as I was so looking forward to being with everyone. But, thankfully the wonderful Yvette and venue crew have been able to reschedule the event for 17 July… I'm hoping that is not going to mess with too many plans.
Since the event three years ago, my body has gone through some radical changes. Despite being unable to walk without assistance, use my arms or now talk , I am still the same laughing crazy Leanne inside with my brain as sharp as a tack! I'm grateful I have my breathing, can swallow and have a big heart still beating strong… what more do I need!!?  So this years dinner is exactly that – a celebration of life and just being AWESOME!
I'm also grateful to my amazing family for helping me with everything, especially Amanda, Martin., Darren and Jane. And lastly to each of my guests for being so understanding. I can't wait to see everyone on the new date – c'mon VICTORIA!!
I'm continuing to defy the odds and choose to be awesome no matter what! See you at the party on July 17th
Love you all!
Some happy snaps from 2018!