It is hard to believe that this week it is 2 years since I was diagnosed with MND. I now have a support team that help me which include 4 Carer's and assistants, Personal trainer and neurophysio, masseuse, a cook and Pilates instructor. Everyday I am keeping busy and need help showering, dressing, feeding, pooping. I am working hard trying to maintain my strength and happy that I can still walk up the stairs and walk with the help of Steve and the Carer's. I am trying to strengthen my arms and hands so I can use them again. Unfortunately my speech has been affected and my voice is not that clear but I'm working with a speech pathologist and I have on order the amazing eye gaze equipment for my computer.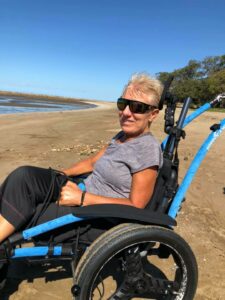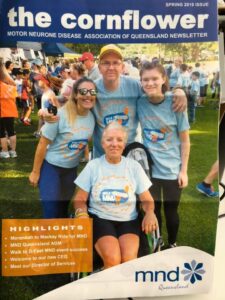 I am very thankful and grateful to everyone including Steve and Maree for everything that they do to help me. I appreciate all of your support and without all of this I don't know where I would be. I will be awesome every day and I am positive for the future. Check out the picture of us on the front of the MND newsletter and can't wait to have fun in my new beach wheelchair.
Have a great weekend and remember to have fun with everything you do.